How to Use New- Mailbox Repair Request in Exchange Server 2013
This blog post is devoted to the common problem of database corruption for all administrators of Exchange server. Microsoft introduced a new technique to repair mailbox from corrupted EDB file in Exchange 2010 and 2013 server using New–Mailbox Repair Request. In this segment I'll demonstrate how to use New-MailboxRepairRequest command in Exchange 2013 for repairing corrupted EDB file mailbox.
The New-MailboxRepairRequest command helps to fix these types of corruption problem of the mailbox.
Search Folder: With "searchfolder" parameter you can fix the search folder corruptions problem. For example if you are facing search folder list and verification problem then use this parameter
Aggregate Counts: Use "aggregatecounts" parameter, if you are getting the incorrect information about quantity of the element in folders and their size.
Folder View: If you are receiving incorrect content of the mailbox database then run "folderview" parameter.
Provisioned Folder: With "provisionedfolder" parameter you can resolve the folder logical structure damage problem.
Now start the recovery process for all four types of failures, here I'll start the repairing procedure of Anglebrown user mailbox.
Check the report of ProvisionedFolder, SearchFolder, AggergateCount, Folderview corruption issues

Note: This command doesn't help to repair mailbox, it only helps to detect the report and corruption issues
Repair Folder Views Corruption Problem

Repair Aggregate Counts type of corruption problem

Repair all corruptions for anglebrown mailbox and archive

The above mentioned commands help to repair corruption problem of the mailbox in Exchange server 2013. In case "New-MailboxRepairRequest"doesn't show any result of the mailbox, then you need to access event log application from the Exchange server, where need to check the repair status along with event ID's. For Example: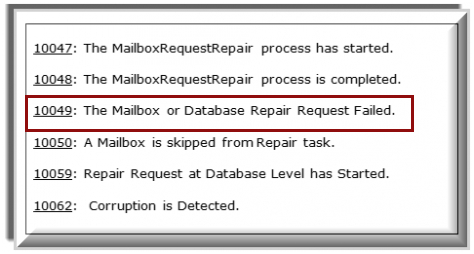 If you are receiving the event ID-10049, that means the mailbox repair request process failed. Then one of the solutions that can be adopted by administrator is third party database recovery software. In this circumstances this database recovery application play best role to repair corrupted EDB file mailbox from Exchange Server 2013. I am pretty sure about this software. It will definitely help to overcome this type of corruption problem without any complications.
The following two tabs change content below.
Angelbrown Leka is a software developer by profession. She loves to write technical blogs over distinct topics pertaining to the issues of Exchange server and Outlook environment. She has earned certification in MCTS and her areas of specialization are MS Exchange server and Outlook platforms.