Configuring Relay Connectors in Exchange 2013 Step by Step
One of the important jobs that Exchange Server has to do is to decide which message can enter or leave the network. For this, it enable or disable the applications within the network to use Exchange Server a SMTP service. At an organizational level, there are two requirement that have to be met up in this concern: Internal SMTP Relay and External SMTP Relay.

The Client Access Server role have Frontend Transport Service (FTS) that does the job of filtering the emails and check out how the messages should be routed between servers (within or outside the organization). The FTS does not perform content filtering but filter out messages on the basis of connection, domains, or sender/receiver.
There are two services that are hosted by the Mailbox Server role:
Transport Service: It is available for every mailbox server and is just like Hub Transport Server in Exchange 2007/2010 edition. Categorization of message and inspecting the content for varied security factors is done by the transport service. Message routing for Frontend Transport service and Mailbox Transport service is done by the Transport service.
Mailbox Transport Service: This is responsible for passing the emails between the Transport Service and the mailbox database. It performs the job through two of its services:
The Mailbox Transport Submission
The Mailbox Transport Delivery
The Frontend Transport Service by default is enabled to work for the TCP port 25, without bothering about the fact if the server has CAS role or multiple roles installed on it. However, the other services will respond to other ports like TCP 2525 which is for Transport Service.
No matter if it is an internal STMP relay or an external SMTP relay, they will be handled only by the Frontend Transport service.
How It Works:
Whenever a Front End Server receives a message, it looks out for a destination to forward it within the organization. Now, if this takes too long, the FTS will be unavailable to the sender. For best response, the service check out where it can find an active copy of the user mailbox. The topology decodes how the message will be routed and the destination where the mail is routed is Delivery Group
Internal SMTP Relay with FTS:
When a Client Server Role is configured, it automatically have a receiver connecter which is Default Frontend SERVERNAME. Its main job is to handle the SMTP connections from unauthenticated sources, and then route them to the internal recipients.
So, the only step left for setting up an internal relay to the applications is to provide a DNS name for connecting to them. For this, you can use the Server name having CAS installation or you can also go for a DNS record.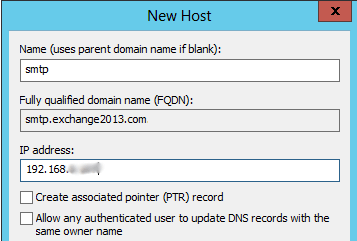 External SMTP Relay with FTS:
For allowing applications to relay external recipients, it is necessary to have receive connector. For that, open Exchange Admin Center and move down to Mail Flow. Select Receive Connectors and choose the server where receive connector has to be created. You can choose a CAS or multi-role server.

For creating a new receive connector, click on "+" button.

Give name to the connector.

If you have selected a CAS for receive connector installation, then Frontend Transport will be enabled by default. In the other case, select it manually.

Choose "Custom".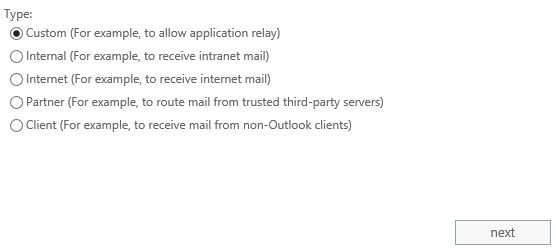 Provide IP address and port number for the Network adaptor.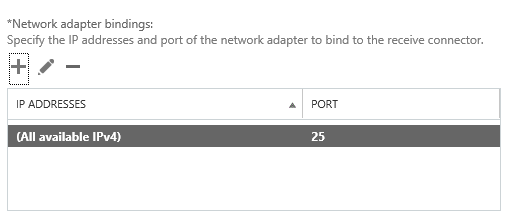 Click Finish.
It is important to define how messages should be routed when received and in this process relay connectors in Exchange Server proves to be a help. The above mentioned steps give an idea of how their configuration should be done.
The following two tabs change content below.
Mike Jackson is a technical writer and he wrote numerous blogs or articles regarding Exchange Server corruption issues with their solutions. You can follow him on Google+, Facebook and Twitter. If you have any query & solution regarding Exchange Server & Outlook apps then you can mail Mike at mike.edbtopstpro@gmail.com.